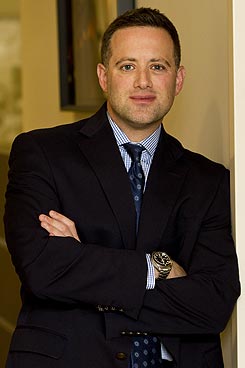 Since 2002, Attorney Andy Goldner has been involved in serious personal injury and wrongful death cases in Georgia and all over the Southeast. Andy quickly gained a reputation as a fierce advocate for children who have been injured or killed by the negligence or reckless conduct of others. The testimonials of Atlanta's child injury law firm speak to the success that the firm has had representing those who most need a legal advocate—Georgia's children.
Over the last few years alone, Andy has recovered millions of dollars for victims of: car and truck accidents, drunk and impaired driving collisions, day care negligence, dog attacks, dangerous properties, defective children's products, and more.
Opposing attorneys, co-counsel, and Judges have said the following about Andy:
"We call him when we need an unusual approach. His insights come from knowing both sides of the aisle, and he will go to great lengths to research, track down extra witnesses and do outside-the-box things that really change the value of a case."
M.G.

Atlanta Area Plaintiff's Lawyer
"Goldner has Mach 5 brains, great personal charm and a work ethic that is unmatched by anyone. If how hard you work determines the outcome, he's never going to be defeated. You have to be passionate and a believer in your case to be an outstanding plaintiff lawyer, and Goldner has found his niche."
G.B.

Retired Judge, Fulton County, Georgia
"A lot of us view a case from the lens of a lawyer. Goldner can see what will be important to a juror. I admire his integrity, use of humor to reduce contention and ability to deflect egos and make points in the courtroom. If he says something, I can take it at face value. I trust him."
B.M.

Partner, Large Atlanta Defense Law Firm
Timeline of
Achievements

and Awards
In 1998, Andy graduated, with honors, from the University of Virginia. After receiving a full academic scholarship to the University of Georgia School of Law, Andy graduated in 2002, again with honors. Since beginning his legal practice, Andy has been consistently honored with peer-nominated awards. Among Andy's awards, bestowed upon him by other lawyers in Georgia are:
Georgia Bar / YLD Award for Ethics & Professionalism in Practice
Only lawyer in Georgia selected to receive this honor.
Georgia Super Lawyer
Voted as a Georgia "Super Lawyer" in the area of Plaintiff's Personal Injury: Only 2.5% of practicing lawyers are honored with this designation.
Speaking Engagements
Invited Speaker at education seminars for other lawyers: 2010, 2011, 2012, 2013, 2014, 2015, 2016.
Georgia Legal Elite
Voted one of Georgia's "Legal Elite" and honored by Georgia Trend Magazine: 2011, 2016.
Georgia 40 Under 40
Recognized by the Daily Report Newspaper as one of Georgia's "40 under 40" top lawyers in the State of Georgia.
Andy has resolved cases for seriously injured children in Atlanta and all over Georgia in claims arising from: car accidents, truck wrecks, drunk driving collisions, dog attacks, day care negligence, defective products, and assaults. In fact, Andy has been lead or co-lead counsel on more than 70 cases resulting in settlements or verdicts of six or seven figures.
"BEST ATTORNEY & STAFF – Last year my daughter got 2nd degree burns on both hands at her daycare while playing on a plastic play ground. I had been searching online for attorney and didn't want anyone that was on TV. I came across Andy's office and left a message. He called me right back, he gave me some great advice. We choose him as our attorney; this was the best decision I had made. He keep me informed every step of the way. Andy made me feel like I was his only case. This is a TOP GRADE A+ ATTORNEY. Thanks again Andy for all your support."
ROBYN G.
"I lost the most precious gift given to me Tuesday, March 16, 2010 my son who was 18 years old in a tragic car accident. I was introduced to Andy through a mutual associate, upon meeting Andy Goldner I immediately felt that he would be an advocate for any client he represented. My suspected feeling proved to be correct, on what initially seemed to be an open and shut legal matter turned into something that took great tact and finesse by Andy and his associates. He worked diligently to see the case through and was available to answer any questions and ease any concerns I had about my case. He is truly an attorney who is a pit bull fighting on his clients behalf, while being a gentle giant when dealing with his clients. Anyone who is fortunate enough to have Andy Goldner as their attorney is definitely in good and well represented hands."
THERESA M.

DECATUR, GA
"My 16 year old son was injured in an automobile accident and lost his hearing. After trying to deal with the insurance company myself, and getting nowhere, I was referred by another attorney to Andy. Andy worked diligently on my case, eased my worries and made this process an easy one for me. I couldn't have been in better hands and will be forever grateful for Andy's help. I would highly recommend Andy!!"
DONNA E.
"As a litigator it is an odd sensation to become the party to a potential lawsuit. After becoming the victim of a hit and run that left me with serious injuries my first phone call was to my good friend and fellow attorney, Andy Goldner. Before hiring Andy I knew Andy socially as well as being co-counsel with him on prior cases. I knew Andy's good reputation and professionalism before hiring him but was even more impressed after I became his client. Andy's office kept me abreast of each step in the process and checked in with me about my well-being and recovery on a regular basis. Though I am an attorney I'm not experienced in personal injury law. Andy patiently explained the process of dealing with the medical professionals and handled the interactions with the insurance company so that I could focus on recovering from my surgery and getting well. My faith in Andy's professionalism and effectiveness was warranted but when I became his client I was even more impressed with his compassionate, hands on approach to dealing with clients. I would highly recommend Andy to anyone seeking assistance with a serious personal injury."
MARCUS K.
"WOW-What an Amazing Lawyer! Mr. Andy Goldner is a professional at his craft. He really understands the client's point of view and is always forthcoming with what he can offer to the given situation. He is a family man and he and his staff treats you like a family member, when offering service for your situation. I have and will always recommend Mr. Andy Goldner to my family, friends and co-workers. He has proven to be a loyal and trustworthy lawyer and that is what you need in your time of distress. Andy you "ROCK"!"
GLORIA W.
"After a horrific automobile accident and several surgeries I was completely overwhelmed while trying to explore and understand all the legal ramifications of my teen age daughter's situation. It seemed many lawyers were ready to help but were not as knowledgeable or patient as Andy. I was exhausted, afraid, overwhelmed, angry and confused. I had spoken with several personal injury lawyers or lawyers claiming experience in that field. They were either arrogant or ignorant. A work associate who had knowledge of Andy suggested I contact him and just " have a conversation" … no strings, no pressure, no obligation. The associate had actually been the attorney on the other side of a case from Andy on several occasions. She spoke of his integrity and his great ability to care for and protect his clients. I called Andy on a Friday afternoon and had a relaxing, informative and productive conversation. I am an "extreme questioner" and Andy thoroughly and patiently attended to each of my questions and concerns. What was truly amazing was how easy it was to reach him by phone or email. I never had to wait long to have my questions and concerns addressed. If he couldn't talk right then due to court or other appointments he let me know when I could expect to speak with him. I would highly recommend Andrew Goldner as your personal injury lawyer. A complete antithesis of your typical personal injury lawyer. Thank you Andy!"
ANNA H.